Transplant hair result with FUE in 12 months with Beyhan Zeybek
Procedure :
Clinic :
Graft amount :
Patient's age :
Operation date :
Last update :
Medical treatment :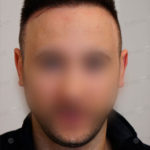 Objectives of the intervention:
The goal of this 29 years-old patient was to « redraw » the hairline and cover the vertex (crown). Dr Zeybek Beyhan has transplanted 3800 grafts in 2 days by FUE method. For young patient and first hair transplant, the FUE is the perfect operative strategy in order to avoid a linear scar on donor area.
One year after the operation, his hairline has got the perfect natural design with more than 50 grafts / cm2. The vertex was recovered with good density. The patient is very happy because he can finally get his young man's hair.
Before the transplant hair
1 day after the transplant hair
12 months after the transplant hair