Presentation of Dr. Mwamba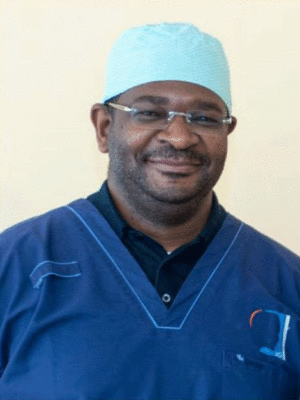 Doctor Patrick Mwamba
Dr. Patrick Mwamba specializes in the non-linear scar procedure FUE. Having worked at the development on the technique from the end of the 90ies, many of his peers consider him as one of the co-inventors of the FUE that is now practiced throughout the world.
He performs his state of art surgeries in his own Bruxelles clinic where international patients come from all continents to get treatment. He now practices a 3 step Isolation procedure which is different than standard FUE. It lowers the graft transection rate and enables FUE on complicated roots like with very curly hair or African hair. Since it is different than regular FUE the procedure is called F.I.T.
F.I.T. stands for Follicular Isolation Transplantation. His procedure requires customised tools such as special punches and different patient position ( the treatment is performed with a seating patients rather than lying down – that allows for multiple surgery actions to be performed simultaneously).
From his own harvesting procedure, Dr Mwamba developed new evolution such as totally unshaven FUE and FIT farming options to repair damaged donor areas. These procedures are all available in Bruxelles and Online quotes and diagnosis are possible through our patient request form.
For the implantation Dr Mwamba is very skilled at performing dense areas as he is capable of transplanting at densities above 50FU/cm2 which is a density that equals the natural density. Patients requiring hyper dense hairlines should consider his services.
At the origin of the FUE, Dr. Cole and Dr. Patrick Mwamba discussed the direct unit isolation procedure in the US in the early 2000s and Dr. Mwamba continued on this basis to develop the F.I.T. procedure (Follicular Isolation Transplantation). Today this procedure minimizes the trauma of the grafts by shortening the time of hypoxia of the grafts. By allowing a visibility on the direction of the harvested hair, the transaction rate is lowered even veryt curly hair ( including Afro Hair ) is possible.
These features allow it to offer linear scar-free FUE operations to patients with Afro hair – which is technically almost impossible as the hair follicles of the Afro hair are curled inside the skin.
Today recognized for his design and efficiency, Dr. Mwamba has a world reputation with patients and professionals.
He received the status of "Diplomate of the ABHRS" which is a distinction granted only to a handful of doctors specializing in follicular grafting in the world.
Memberships
International Society of Hair Restoration Surgery (ISHRS)
European Society of Hair Restoration Surgery (ESHRS)
Diplomat of American Board of Hair Restoration Surgery (ABHRS)
Hyper dense hairlines
Exclusive technique (FIT)
FUE partial shaven or unshaven
Afro Hair FUE
Donor Area management
Price of Dr. Mwamba's clinic in Belgium at Brussels
| | |
| --- | --- |
| FUT techniques | Price FUT |
| FUT Partial Shaven | 3€/graft |
| FUT Unshaven | 4€/graft |
| | |
| --- | --- |
| BHT techniques – Beard graft | Price – BHT |
| BHT – Full Shaven | 6€/graft |
| BHT Unshaven | 6.50€/graft |
 Add 21% VAT
10 % discount available for your result pictures ( face hidden). Additionnal 5 % discount available for pictures face showing.
Results photos of Dr. Mwamba's clinic in Belgium at Brussels