Presentation of Dr Arvind Poswan and his clinic at New Dehli in India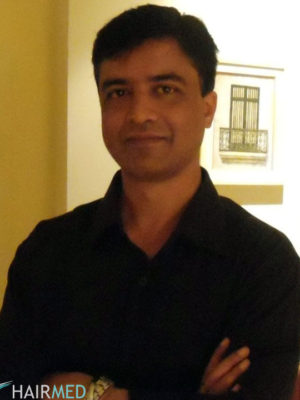 Dr. Arvind Poswal
Doctor Arvind Poswal is considered as one of the most creative doctors in the hair transplant industry. He developed his own technique of FUE that uses a both Body Hair as well as FUE Hair to maximize donor area.
Using the basic principles of no linear scar, the FUSE allows for much bigger transplant numbers as it expands far beyond the donor area. Widely considered as the Body Hair Transplant reference in the world, Dr Poswal has great experience in handling difficult cases of repair hair transplant in which donor area is no longer usable.
Dr. Arvind Poswal' results in both FUE and FUT and BHT presents excellent yield due to a perfectly mastered skill and experienced team.
Dr Poswal likes very low hairlines and very sporty looks which he allows , even on very extensive hairloss patients, thanks to his extensive donor supply multiplied by the to extra body hair.
When Doctor Poswal devises a strategy for a patients, he can allow himself very large possibilities as he is always considering the donor supply and far more important ( thanks to the additional body hair) than other doctors.
Low hairlines
BHT technique specialist
Expanding needle technique
"Desperate" case specialist
Dr. Arvind Poswal's clinic
Prices of Dr. Arvind Poswal's clinic in India at New Dehli
| | | | |
| --- | --- | --- | --- |
| Graft amount | FUT 1 Day | FUE | BHT |
| Until 3000 | 1,5$/graft | 4$/graft | 4$/graft |
| After 3000 | 1,25$/graft | 3,5$/graft | 3,5$/graft |