Procedure :
Clinique :
Graft amount :
Patient age :
Operation date :
Last update :
Medical treatment :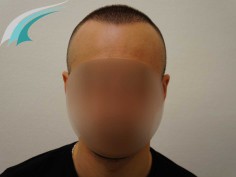 Operation goal: Global reconstruction.
This 24years old patient had very extensive hair loss. His goal was to eradicate the baldness while being able to keep a very short hairstyle and cover the the maximum surface possible. A careful examination of his donor area revealed a slightly low density in the donor area. So only 3090 grafts were implanted over a 2 days operation. FUE hair transplant was preferred to avoid a linear scar as the patient wished.
Dense packing procedure was used and gave the patient a nicely dense and natural hair transplant results.
These before and after pictures are taken within 9 months of the hair transplant operation. The final result will be showing from 12 months.