Procedure :
Clinic :
Graft amount :
Patient's age :
Operation date :
Last update :
Medical treatment :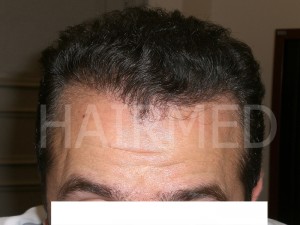 The purpose of this patient was a global reconstruction in combination with a Finasteride treatment.
For a 33 year old man with stabilised hairloss, a single intervention can provide a relatively long term result.
The pictures are taken at 9 months, which is not a final but approaching its full regrowth result.
His 3030 grafts were divised as:
Single hair follicular units: 665
2 hairs follicular units: 1305
3 hairs follicular units: 1060
Total: 6455 hairs in 1 procedure
the FUT hair transplant required a full day.