Procedure :
Clinic :
Graft amount :
Patient's age :
Operation date :
Last update :
Medical treatment :
Dense Packing, FUE
Dr Beyhan Zeybek, Istanbul
3000 Grafts
24
20/07/2009
9 Months
No treatments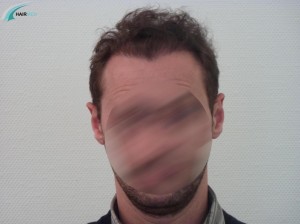 These before and after hair transplant pictures are taken 10 months apart.
This patient wished for a global reconstruction. However, it was impossible to achieve the high number of grafts required in one FUT session. Therefore, the team established a 2 session plan, one session for the front, one session for the back.
This is the result of the first session for the front. Another operation is planned for the back, and the second sessions was achieved in february 2013.
The first session was achieved, while keeping in mind that the patient might not wish to do the second session.
Therefore he had to be able to choose to go on with only the first session result. That is why 1 hair follicular units were placed on the frontal hairline and on the edge of the back in order to get this natural result.
With the outcome of the first operation the patient choose to complete the second part and we will post his result as soon as we he sends his pictures or comes in our offices.
Hi frontal hairline density is 50FU/cm2 and the density on the top is around 40. 
The patient is able to comb his hair back without any fear of the implants showing an unnatural look.
The scar is very discreet thanks to the trichophytic closure  (see our FUT page).
Before Hair Transplant
After Hair Transplant