Procedure :
Clinic :
Graft amount :
Patient's age :
Operation date :
Last update :
Medical treatment :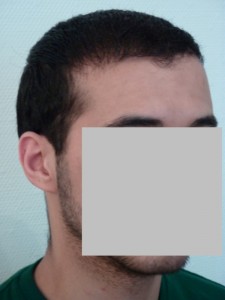 This young patient wished to regain a more youthful and sporty look by filling his sides. The goal was to improve his frontal look and allow him to keep his hair short.
In a case like this, FUE procedure was more appropriate in order for him to save his donor area as well as answering his wish for short hair. More hair transplant options are still possible for him in the future.
A medical treatment was strongly advised for the patient but the patient did not follow it. At 9 months we can see his hair is starting to get thinner behind the transplanted areas. Another hair surgery will be necessary in the near future should the patient keep on refusing to use medical therapies.
Before Hair Transplant
After Hair Transplant