Results hair transplant fue after 18 months with the Dr Beyhan Zeybek
Procedure :
Clinic :
Number of grafts :
Patient's age :
Operation date:
Last update  :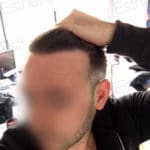 This 31 years old patient suffered from receeding hairline.
He choose the non-visible scar procedure FUE with Dr Beyhan Zeybek in Istanbul.
Hair line design is Dr Beyhan Zeybek's specialty. She implanted 2800 grafts within a single day procedure.
2800 grafts is the maximum amount that Dr Beyhan can perform in 1 day by FUE.
Dr Beyhan Zeybek performs 100% of the isolations, 100% of the extractions, 100% of the incisions.
Her assistant and herself are implanting the grafts inside the pre-made incisions.
The patient had follow-up one to one meetings in Europe with the Hairmed Team at +15 days , +3months and sent his final results at 18 months. (final pictures are taken by the patient himself )
We are very pleased by the natural look and beautiful result of this FUE hair transplant.
Before the hair transplant
15 days after the hair transplant
3 months after the hair transplant
18 months after the hair transplant