Procedure :
Clinic :
Graft amount :
Patient's age :
Operation date :
Last update :
Medical treatment :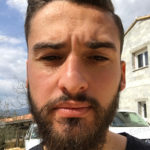 Beard reconstruction by FUE harvest
4 months update.
Traveling for his beard transplant in Istanbul - The new trend
2016 was the year of the beard reconstruction in the field of hair transplantation. More men decide to act to overcome lightly haired or totally hairless cheeks.
Beard transplant by FUE harvest is a documented and mastered operation with an excellent percentage of satisfaction from the first surgery.
Our top Beard reconstruction offer in Istanbul offered at 2500€ (hotel,exams,transfer,translator included) has been a great success with all our international patients thanks to consistent, natural and safe results.
Three days and two nights at Istanbul was necessary to complete the medical travel. Today, this patients is being closely followed by his support team based in Paris.
Please visit us regularly for new updates until the final result at 12 months.
Before the beard reconstruction
Straight after the beard transplant ( operation day)
Here are the photos of our patient at 20 days and at 4 months after the operation in Turkey
REMINDER : This isn't the final result! Final results will be visible after 12 months, please visit our website regularly for updates
20 days after the operation update
4 months after the beard reconstruction